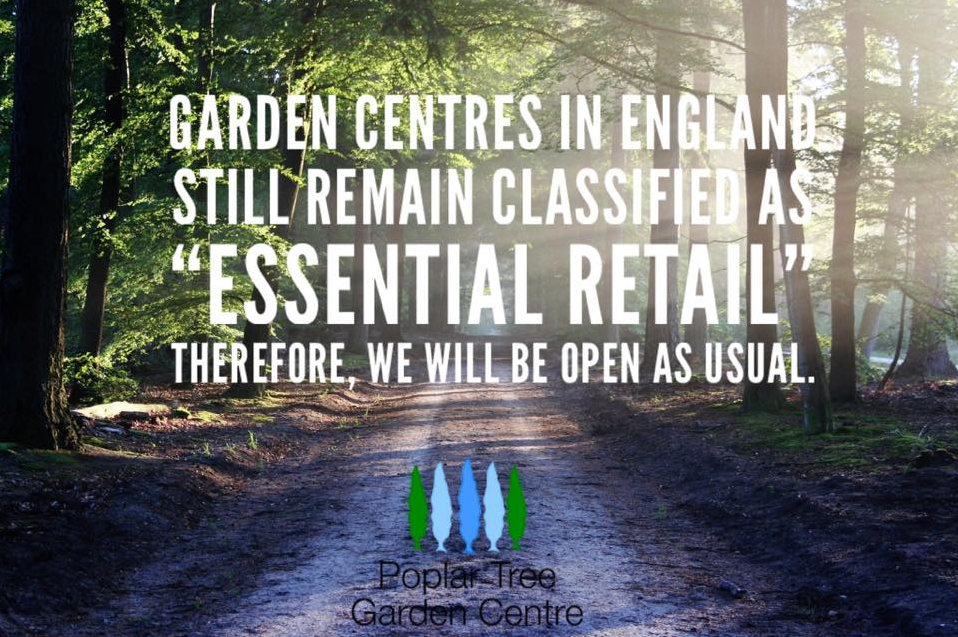 Our Garden Centre is currently open throughout 2021. Brambles Coffee Shop remains closed, however it is operating a Takeaway facility at the Entrance to the Garden Centre & will be open for outdoor dining from 12th April 2021.
Safety for staff and customers remains our top priority and so you will continue to find social distancing measures in place when you visit. During busy times, we will also need to limit numbers of customers entering the centre. We would ask that you continue maintain a 2m apart distance throughout the centre when shopping. Find an overview of all our safety measures below.
Thank you to all of our valued customers for your continued support this year and for following our new measures when visiting. We will continue to keep you updated but above all, please stay safe and look after yourselves.
What to expect when you visit us:
Our priority is to ensure the safety of customers and staff alike. You will notice a number of measures in place when you visit, including:
We are still limiting the number of customers in the centre at any time. Please be aware at busy times that you may need to queue. Please queue 2m apart, and continue to follow our 2m social distancing markers throughout the centre. We also ask that you carefully browse the Garden Centre following the one-way system from entering the Gift Area & Florist first. Please respect staff and fellow customers and maintain a safe distance when shopping.
It is mandatory to wear a face mask whenever you are visiting our centre - this includes both the inside shop and outside plant area - unless you are exempt.
Sanitiser stations will be located at the entrance to the centre for customer use.
We can take cash payments as well as card payments. Poplar Tree and HTA Gift Cards/Vouchers are accepted and HTA vouchers are available to buy again at our tills, but we would prefer contactless payment wherever possible.
Under government guidelines, we, unfortunately, will not be able to offer assistance to customers in our usual way so please be aware that we may not be able to load your car with heavy items during this period of social distancing.
Dogs are allowed in our Garden Centres. Dogs are not currently allowed inside our restaurants when we they re-open (except for assistance dogs), but they are allowed in the outdoor seating areas.
Brambles Coffee Shop
In line with the latest government restrictions, our Coffee Shop is currently close, however we now have a purpose built outside Coffee Shop (located within the Carpark at the entrance to the Garden Centre). This caters for hot & cold drinks as well as food.
Face Coverings
In line with government guidance, you must now wear a face covering whenever you are inside our centres unless you are exempt.
It is not expected for people to wear face coverings while dining in restaurants (when we are open), however, please continue to wear your covering while queuing to order food in our restaurants and remove once seated.
Stay safe and may your gardens - and homes - continue to be a source of normality and happiness.