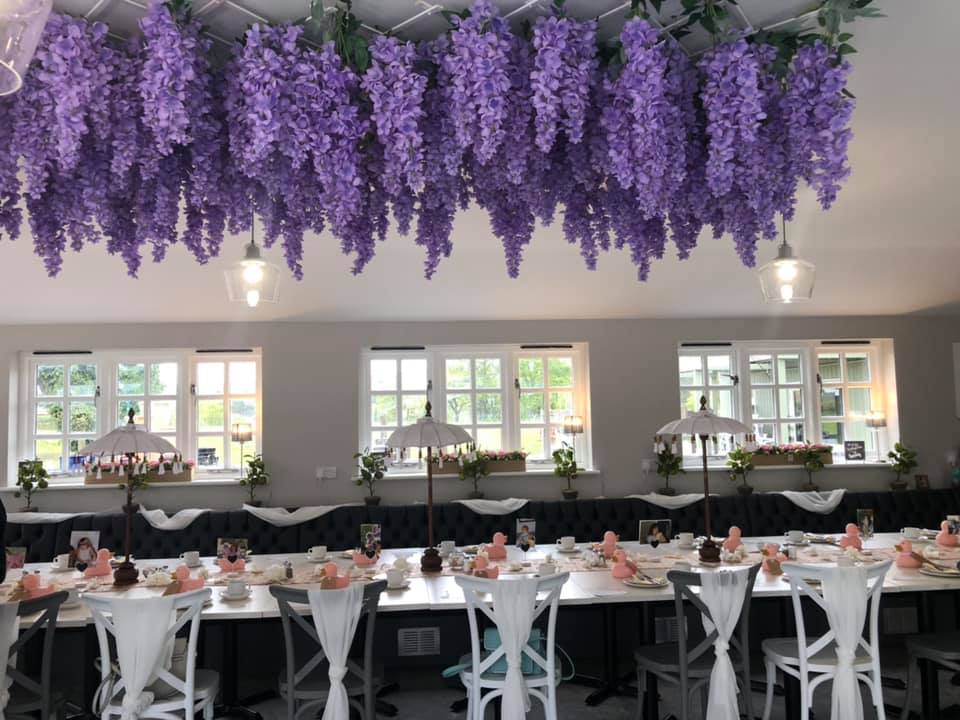 V E N U E H I R E & E V E N T S
We would like to welcome you to one of the area's most exclusive venues where you & your guests can dine in our private Garden Room with floor to ceiling glass windows and hanging Wisteria, allowing guests to make the most of the beautiful scenic views in their own private dining area.
We pride ourselves on our flexibility and the exceptional private dining options for every kind of event.
Funeral Teas - Our catering team has many years experience in sympathetically arranging funeral teas. At this difficult time our staff will help to ensure that all arrangements are made with ease and due reverence to the occasion.
Baby Showers - Preparing to bring a new life into the world? That calls for a special celebration! We're here to assist with the planning and preparation as you create a fun and unique baby shower any 'mum to be' will adore.
Anniversaries - Whatever the age of the Anniversary, our catering team provide a friendly and attentive service allowing you to get on with the business of celebrating the years you've chalked up together.
Christenings - You've formally welcomed your precious little one into the world, now share your joy with family and friends. Our catering team will carefully tailor your celebration around your party's requirements.
Birthdays - Everyone loves a party and what better excuse do you need than a loved ones birthday? Our friendly team will take care of all the arrangements from start to finish leaving you free to revel in the festivities

Our private Garden Room allows us to cater up to 70 guests
Please note: a minimum of 30 guests is required for all of our private dining options in The Garden Room.
Brambles Coffee Shop can also cater for a larger number of guests up to 150, should this be required.
Please note: a minimum of 70 guests is required for all of our private dining options in Brambles Coffee Shop.
-Should any parties have guests less than the minimum listed, we can also Reserve private tables within the Coffee Shop for you & your guests.
The Garden Florist
Poplar Tree Garden Centre, Hall Lane
Shincliffe
Durham
DH1 2NG